We offer integrated oral solid dose services right from pre-formulation services to commercial manufacturing. We provide recommendations for best dosage form to clinic based on the preformulation study results and help customer to choose the fit for purpose dosage form that suites the therapeutic objective.

Pre-formulation services:
Our oral solid pre-formulation services include:
API physiochemical characterization
Molecule stability behavior
Solubility enhancement by various techniques
We provide effective solutions for pre-clinical stage formulation development to enable GLP toxicity studies in a smooth manner in target animal species. Based on DMPK profile of the molecule we also provide recommendations for maximizing the bioavailability of the molecule through solubility and permeability enhancement, gastro retentive formulation and targeted drug delivery systems
We offer pre-clinical supplies of formulations for animal studies from R and D. Our state-of-the-art lab facilities are equipped with miniature lab equipment that enables fit for purpose formulation development using minimum batch size as low as approximately 50 g blend. Key unit operations such as granulation, drying, blending up to coating are capable of handling minimum batch size to enable formulation development using minimal drug substance quantities. We also offer support to veterinary formulations for development of customized formulation.
Solubility enhancement by lipid technology
Lipid formulations are often explored to deliver the molecules through lymphatic pathway. Our portfolio of lipid formulations includes various dosage forms as shown below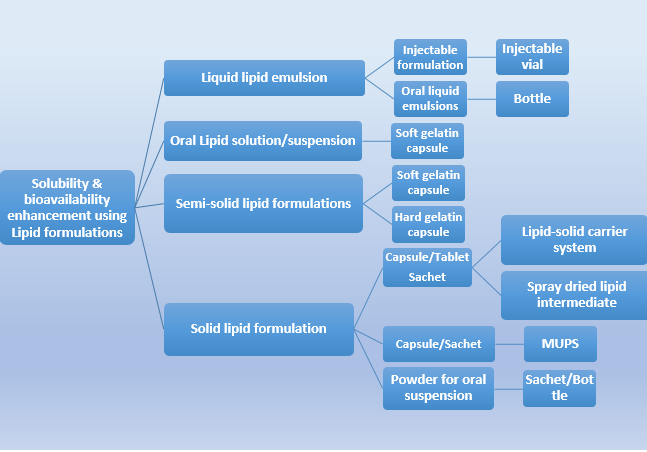 "Fit for purpose" dosage form development services for early phase clinical trials (Phase 1 and 2): Insights from the pre-formulation and preclinical studies would be taken into consideration while designing fit for purpose dosage form for First in human and Phase 1 clinical supply. Availability of drug substance quantities are quite a concern in early phase studies for most of the NCEs. Hence, basic formulations such as API filled into capsule/ bottle or powder for extemporaneous suspension/solution are highly preferred during early phase.
In addition to conventional approach, we also have capabilities to enhance the taste of the bitter tasting drug and help to select the type and level of sweetener and flavours using e-tongue technology. Taste masking approaches include use of sweeter and flavour combinations, complexation of molecule using ion exchange resins or cyclodextrins and use of polymer coating to provide taste masking.
We have state of art technology (Xcelodose) for filling of API in capsule with accuracy and precision and support to bring your NCE molecule right from preclinical stage to clinical stage in a cost effective manner.
Most of the times the dosage strengths are not finalized during early phase and time lines for clinical study initiation are critical. At the same time the molecules need modified release to enable desired therapeutic action. In such cases we offer multi particulate technology using pellets or micro/mini tablets that enable dose adjustment based on strength(s) finalization. This approach helps to expedite the development without waiting for dosage strength finalization and at the same time provides enough time and flexibility for the innovator companies for finalization dosage strengths from wide range based on clinical study outcome. Moreover analytical methods are developed to cover wide dose range to avoid re-work once dose strength is finalized.
Multi particulate technology has also been adopted to achieve tailored drug release of actives in fixed dose combination formulation to enable immediate release of one active and delayed/modified release of another active. Overall we offer flexibility in terms of dosage form design and dose selection using state of art technology and high level expertise in the field of dosage form design.
Above approaches help to reduce the cost and time during the early phase clinical trials significantly and help customers to choose dosage strengths in a flexible manner. As scalable formulations are developed, the API requirements are much less as compared to conventional development approach.
Late phase formulation development for phase 3 or commercial supply:
We offer wide variety of dosage forms for late phase development up to commercial manufacturing. Our state of art laboratory equipment help to develop robust formula and process to enable smooth technology transfer. Late phase formulation and dosage form shall be design to enable seamless technology transfer to manufacturing site without any processing issues. We adopt QbD approach and evaluate impact of formulation variables and critical material/process variables on drug product quality attributes during the lab scale development and provide recommendations for successful scale up.
We offer development and manufacturing services of conventional dosage forms such as immediate-release tablets, chewable tablets, orally disintegrating tablets, granules for suspension and capsules.
In addition to hard capsules we also provide service for manufacture of soft gelatin capsules. Soft gelatin capsules are preferred when there are bioavailbility issues, content uniformity issues in case of very low dose formulations. Liquid solution/suspension or semi-solids can be incorporated in to soft gelatin capsules.
In addition to traditional forms, we have the capability of developing and manufacturing highly complex formulations involving bi-layer tablets, multi-particulate systems (Pellets or Mini-tablets in capsules), fixed dose combinations, taste-masked formulations, very low and high-dose products and delayed and modified-release formulations. We provide patient centric solutions for the dosage form design.
We have access to state of art manufacturing facilities that are approved by US FDA, MHRA and WHO to enable seamless cGMP manufacturing of clinical/registration and commercial batches. Most of the manufacturing facilities follow paperless electronic BMR systems and comply to stringent regulatory requirements.
Various unit operations that can be handled in R and D and manufacturing facility are detailed below
| Unit operations | R and D Scale of operation: 50g – 5 Kg | cGMP Execution Scale 10 Kg – 500 Kg |
| --- | --- | --- |
| Wet granulation | | |
| Dry granulation/Roll compaction | | |
| Fluid bed granulation | | |
| Wurster coating for delayed release/ modified release | | |
| Extrusion-spheronization | | |