The human body continually degrades and replaces proteins by newly synthesized molecules. This recycling process also enables faulty or damaged proteins to be removed to eliminate any future issues. The majority of intracellular proteins are degraded by the Ubiquitin-proteasome system (UPS). In this process, a group of enzymes – E1 (ubiquitin-activating enzyme), E2 (ubiquitin carrier), and E3 (ubiquitin-protein ligase) – identify the proteins for degradation and tag them by attaching multiple ubiquitin (a small 76 amino acid residue protein which is highly conserved among all eukaryotes) molecules to their surface. These polyubiquitinated proteins are then recognized by the proteasome, a large complex that degrades the polyubiquitinated protein into small peptides by proteolysis. The discovery of the ubiquitin-proteasome homeostasis system was recognized with the Nobel Prize in Chemistry in 2004 to Aaron Ciechanover, Avram Hershko, and Irwin Rose.
PROTACs consists of three components: A ligand binding to the E3 ligase, a second ligand-binding to the POI, and a suitable linker that joins the E3 ligand and the POI ligand together. The E3 ligand and POI ligand bind to their respective targets to form a ternary complex. Once bound, an E3 and POI are in close proximity, triggering the E3 to transfer multiple ubiquitin molecules from E2 to a lysine residue on the substrate of POI via the formation of a covalent bond.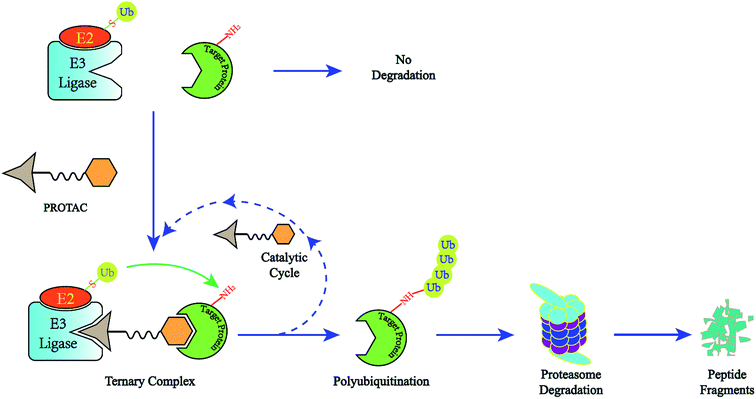 Image Source: Pei, H., Peng, Y., Zhao, Q., & Chen, Y. (2019). Small molecule PROTACs: An emerging technology for targeted therapy in drug discovery. RSC advances, 9(30), 16967-16976.
This polyubiquitinated POI is then recognized and degraded by the proteasome as part of the UPS. After the POI is degraded, the PROTAC is released to continue its degradation mission. Thus, PROTACs trigger an artificially induced target degradation by bringing two proteins into a proximity that generally would not interact. Successful interaction relies on the bridging molecule and the adequate affinity of the PROTAC toward both the E3 ligase and the POI, and no significant functional activity is necessary for degrading the POI, unlike in classic occupancy-driven drugs.