Most commonly used amino protecting groups are the t-butyloxycarbonyl group (Boc) and the 9-fluorenylmethyloxycarbonyl (Fmoc) group. The protecting functional groups in the side chains of amino acids are specifically chosen so as to maintain the orthogonality during the synthesis. Although the Solid Phase Peptide Synthesis (SPPS) is a slightly expensive method, the process is rapid and provides a straightforward approach to longer peptides with an excellent scalability. SPPS avoids multiple purification steps as the reagents and other impurities are washed off after each coupling cycle or reaction. Automated solid-phase peptide synthesis (SPPS) offers a suitable technology to produce chemically engineered peptides. The orthogonally of protecting groups are used for peptide modifications. Several modifications including the labelling with PEGs, lipids, steroids, biotins or fluorophores etc., the synthesis of conformationally constrained peptides i.e. stapled, lactam bridged, disulfide bridging, or head to tail cyclisation are performed in solid phase.
Protecting groups for Fmoc-SPPS have been widely developed and studied. The advantage of the Fmoc/t-Bu approach is the multiple protective groups de-protection at precise reaction conditions without effecting the other protecting groups. A strategy which provides more flexibility in synthesizing complex peptides. These protecting groups are orthogonal to the base-labile Fmoc-group and most of them can be removed by highly concentrated TFA solutions. Examples of such protecting groups are the tert-butyl (tBu) ester for Glu and Asp, the tBu ether for Ser, Thr, and Tyr, the 2,2,4,6,7-pentamethyl-dihydrobenzofuran-5-sulfonyl (Pbf) for Arg, the trityl group (Trt) for Cys, Asn, Gln, and His, and the Boc group for Lys and Trp (Table 1) 2.
Modifications on the phenyl rings in Trt-derivatives with electron withdrawing or electron donating groups, increase the sensitivity to acidic solutions, which makes their removal easier.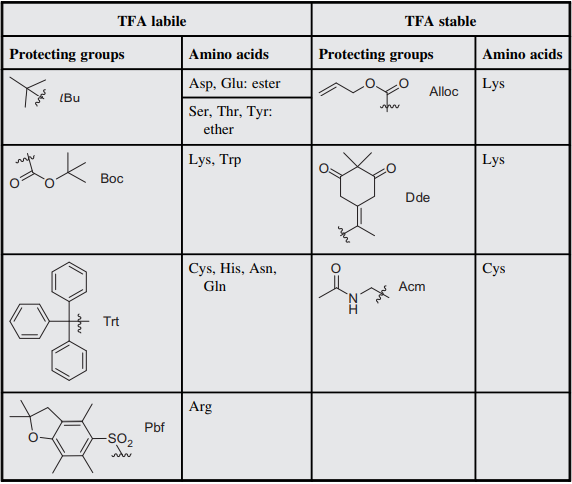 Table 1: Common side-chain protecting groups mainly used in Fmoc - Solid Phase Peptide Synthesis
References:
1. J. M. Palomo, RSC Adv., 2014, 4, 32658
2. C. Petrou, Y. Sarigiannis, Peptide synthesis: Methods, trends, and challenges; Peptide Applications in Biomedicine, Biotechnology and Bioengineering 2018, 1-21 (http://dx.doi.org/10.1016/B978-0-08-100736-5.00001-6)